Episodes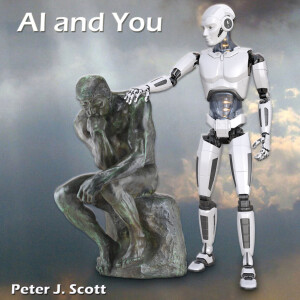 Monday Sep 25, 2023
Monday Sep 25, 2023
This and all episodes at: https://aiandyou.net/ .
Radiology found itself in the crosshairs of the debate about AI automating jobs when in 2016 AI expert Geoffrey Hinton said that AI would do just that to radiologists. That hasn't happened - but will it?  To get to the bottom of this, I talked with Matthew Lungren, MD, Chief Medical Information Officer at Nuance Communications, a Microsoft company applying AI to healthcare workflows, and the name that comes at the top of the list when you look up #radiology and #AI. He also has a pediatric radiology practice at UCSF  and previously led the Stanford [University] Center for Artificial Intelligence in Medicine and Imaging. More recently he served as Principal for Clinical AI/ML at Amazon Web Services in World Wide Public Sector Healthcare. He has an impressive oeuvre of over 100 publications, including work on multi-modal data fusion models for healthcare applications, and new computer vision and natural language processing approaches for healthcare-specific domains.

The basis for Hinton's assertion was that AI can be trained to find tumors, for instance, in CT scans, and we know how good AI is at image analysis when it's got lots of labeled data to be trained on, and we certainly have that with CT scans.  We get to find out what's real about AI in #medicine in this episode.

All this plus our usual look at today's AI headlines.

Transcript and URLs referenced at HumanCusp Blog.