Episodes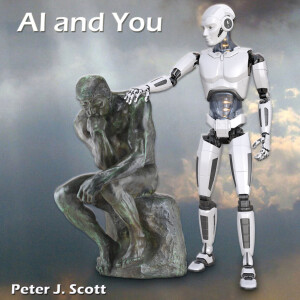 Monday Jun 14, 2021
Monday Jun 14, 2021
This and all episodes at: https://aiandyou.net/ .
Episode 52 means we've reached our one-year anniversary! So we're marking the occasion with a lighter episode pair, a panel talk about AI in fiction: Books, movies, TV shows. I am joined by literary and science fiction educator Dr. Robert James, who is also a published expert on the Academy Awards; and by Jim Gifford, my publisher and the bibliographer of science fiction author Robert Heinlein. All of us were a team on the creation and production of the 2007 convention of Heinlein's centennial.

In part 1 our conversation spanned the early days of AI fiction up to the '70s, touching on Metropolis, Asimov, Colossus, Heinlein, 2001, and others. This is a non-stop free-ranging conversation between experts passionate about this field.

All this plus our usual look at today's AI headlines. 

Transcript and URLs referenced at HumanCusp Blog.